This is a really funky and well written article from Seth Jackson MD Pias Media.
Back in the good old days, web was web and mobile was mobile and the marketing battle was on.  I ran a mobile marketing agency for record labels, from 1999. Our job was to construct ways of using the mobile devices unique nature to engage with music fans in a compelling way.
We spent the best part of ten years trying to instil best practice for data capture, and mobile CRM, into a luddite industry. We had endless conversations over the added value of capturing mobile numbers, not just email addresses. Myself and my peers were convinced that music was coming to mobile we believed that SMS would replace email as the only communication that mattered from artist to fan. We were convinced that the full track to mobile would prove to be everything the ringtone boom had been, but with the chance to hold our heads high. The operators would rule the roost and the web as we knew it would wither.
Like many others, we didn't really bank on the impact of true social media, we didn't bank on the iPhone and we certainly didn't see apps coming the way they did. So, in an age when much of the time we see that mobile is reduced to a web access point, and SMS marketing is seen as a bygone beast, I ask – what role does mobile specific marketing play in the relationship between artists and their fans?
The predominant belief seemed to be that mobile was the connection point between web and social media and therefore negates the need for specifically tailored mobile campaigns. This attitude prevails into the new platforms and is typical in how we are seeing attitudes about artist-based iPhone and Android apps. The divide is clear between those for whom mobile is just another access point, and for those that really understand the unique nature of the mobile device.
For those artists who are just ticking off the technology box, by offering apps that are a collection of web feeds and Facebook and Twitter integration, this approach might seem to cut it. Even Madonna's official app is not much more than a rehash of existing feeds. But, for those that understand the unique relationship between the fans and their device, for those who understand that the special thing about mobile is its context, apps have taken mobile marketing to fans to a whole new level.
What separates a mobile device from a small laptop, in marketing terms, is context.  Effective geo-location, true social network integration, even accelerometers all have a part to play in making a good experience on mobile a unique one. The Black Eyed Peas 360 app last year utilised motion control as an intrinsic part of their  fan's app experience, something that could not be recreated in the same way on the web. A host of Augmented Reality or image recognition based apps were launched, doing everything from activating the physical product (if you can find a shop still selling them!) to interacting with the live show. These types of apps started to embrace the unique nature of the mobile device. Bjork's groundbreaking Biophillia app may never recoup its reported $1 Million dollar investment, and Radio Soulwax was clearly a 24 hour labour of love, but they are both app-led mobile marketing campaigns of beauty nonetheless.
So where is innovation going to come from for how artists use mobile? I'm lucky enough to work two days a week out of an innovations lab, called the Pervasive Media Studios, where our agency [PIAS] Media sits as a conduit to the music industry and brands. We are currently working with some clever guys there on a project around virtual busking. The concept involves using AR and geo-fencing to place a very well known artist on a "street corner tour" of European cities.  Fans will be alerted by geo-push notifications (does that feel like SMS marketing to anyone else?) and can experience an impromptu performance that relies on context and mobile technology to produce a unique interaction with the artist. Harnessing location, and using that location effectively, is one of the most powerful tools in any mobile marketers toolkit. Location, that is then mixed with an artist's live shows, can produce powerful results.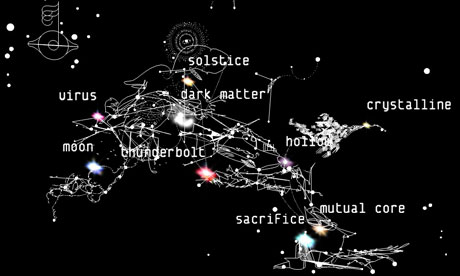 Björk' s Biophillia App – turning mobile into a whole new medium
2ManyDJ's Radio Soulwax proved content is still king
But is cutting edge tech the only way to get noticed by your fans? If the secret formula to interacting with fans on mobile is the personal touch, then can old technology, if used creatively, sometimes produce a more compelling experience? Take the campaign we did for Katy Perry, for her recent tour.  All Katy's fans want is to be close to her, so the challenge was to create a personal touch without Katy having to do the ehem…personal touching. Looking at the target audience, a complex smartphone enabled campaign was simply not going to do the job for Katy, so it was time to take a step back in technology.
Using good old SMS, Katy's fans were encouraged to text in to win a meet and greet with her, and were delivered back a very slick handset optimised site. Then, as they left the stadium, their phone would ring. "Hi, it's Katy Perry here. Thanks for coming to my show in Birmingham tonight!" Her fans were encouraged to leave her a message, and boy did they. Poems, love messages and screams ensued along with thousands of likes and OMG's across Facebook and Twitter. This showed how IVR, a technology that has been knocking around for a couple of decades, could still made the fan'ss jaws drop.
While music marketing on mobile may not have turned out exactly the way we thought, the central goal, to use the unique nature of that small computer you carry with you, to engage with fans in a unique fashion, remains the same. Whether it is sexy artist relations with Rihanna, using your device to interact with the live show like Riche Hawtin's Plastikman or simply getting an automated call from your favourite pin-up, labels and managers had better be looking beyond a couple of web feeds into an app if they want to be noticed.
About Seth Jackson, Managing Director of [PIAS] Media
Seth Jackson is the MD of [PIAS] Media, the specialist Music, Brand and Technology agency. With a background in mobile going back to 1999 Seth Jackson worked with club promoters and brands to explore the early uses of SMS marketing to youth audiences and the potential that arose with the birth of the ring-tone phenomenon. He spent the early years of 2000 working within the emerging mobile music business starting his own company, Indie Mobile in 2005. Indie Mobile worked with the cream of UK independent labels developing innovative award winning mobile campaigns for artists such as Oasis and Dizzee Rascal and distributing mobile music to over 400 retail outlets worldwide. In 2008 [PIAS] Entertainment Group purchased the company and Seth began to look after a number of new areas of the business on behalf of the group.
[PIAS] Media was formed in 2010 and, led by Seth, has quickly forged a reputation for creativity and innovation working with global acts and brands such as Skype and O2 to deliver compelling campaigns. Their work in branded content, Apps, events and integrated strategy continues to build a thriving agency.